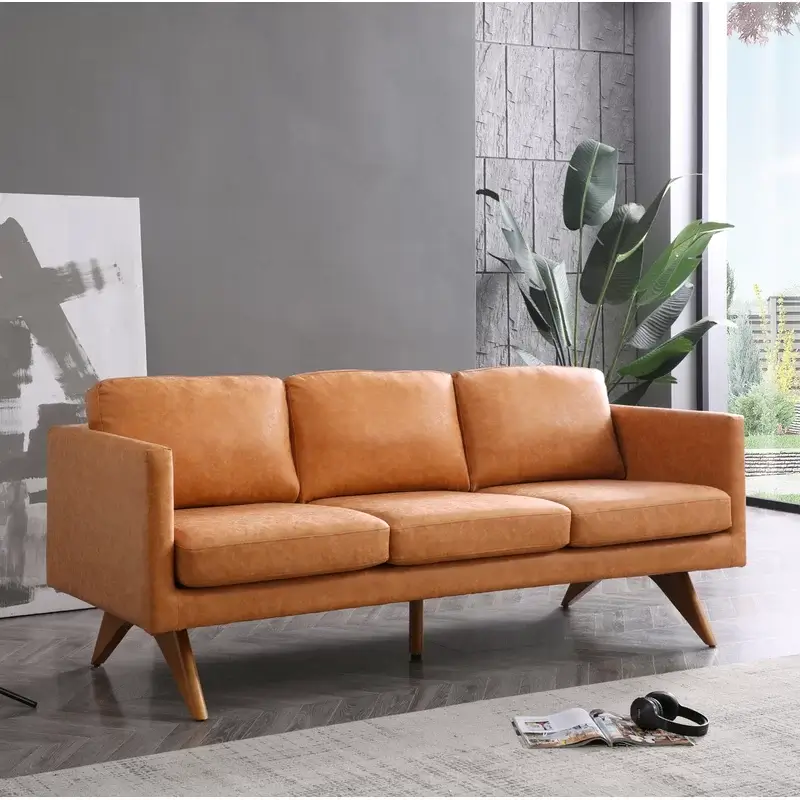 ABU DHABI BRANCH
Abu Dhabi Island, Al Salam Street Behind Abu Dhabi Municipality And FAB Bank Heirs. Of Ibrahim G. Sultan Al Suwaidi Building ONLINE FURNITURE – Showroom no. S2 Abu Dhabi
Landline: 02-6721444
Phone: 056-600-9626
DUBAI BRANCH
Risala Furniture LLC 9 24 A street, Al Quoz 1 Dubai – United Arab Emirates
Landline: 04-2959449
Phone: 056-600-9626
Best Mid-Century Sofa
Whether you're a bookworm, a coffee drinker, or neither, there's no doubt that a sofa is the best spot to unwind at home. A sofa set helps enhance the elegance of your home decor, and you can further count on a high-quality lounger to liven up your space. But how can you choose the most extraordinary sofa design to go with your decor style and give you a calm environment to relax? Nevertheless, it's not a difficult task if you know where to begin. Here we are to resolve your furnishing problems. Let's find out what this mid-century sofa looks like? 
What is a mid-century sofa?
Whether you're scrolling through your favorite house plans Facebook pages or enjoying your favorite show on Television, you're bound to come across a variety of appealing mid-century pieces. Clear, simple, sleek lines, utility, and a tasteful stylistic characterize Mid-Century Modern furniture. Mid-Century Modern sofas can easily integrate with some more contemporary furniture styles and serve as a central focus in any sitting room. Different types of mid-century sofas cater to the different tastes of people. See what they are
Types of the mid-century sofa that might fit in your space 
 A classic leather sofa 
This sofa set is perfect for your living room, and this type of sofa is a nod to a perfectly stylish home. A leather seat offers you instantly cleanable options with low maintenance.
 Cloud fabric 
A cloud fabric mid-century sofa set gives us the warmest and most comfortable experience. As its name suggests, it has a cloud fabric that gives you the feeling of sitting on a cloud. The fitted, tucked-in style up top contrasts beautifully with the sleek hardwood base.
Lawson
Lawson sofas are specially developed for relaxation. A backrest consisting of fully independent cushions and detachable from the sofa frame is its trademark feature.
Advantages of buying a mid-century sofa set for your space?
Versatility
A mid-century sofa can be used in a diverse array of simply reading books, trying to stretch out, or calming in the sun. Not just that, and it also has visual appeal to entice people, which would be the chair's most significant aspect.
Adds luxury
With the best selection of mid-century sofa and other furniture, you can add additional luxury and refinement to your premise. This modern, sleek design gives a luxurious look to your home.
Contemporary look
 If you love modern furniture, then it is an excellent option for you to go with a mid-century modern sofa. This furniture piece not just enhances the looks but also gives you that contemporary touch. 
Instantly change the vibes of the space.
This mid-century sofa set can change the vibe of your space, add sophistication and beautify your living area. Now see where you can avail that from
Why choose Carpentry Abu Dhabi as a solution to your furnishings problem?
Carpentry Abu Dhabi serves all your requirements to give your home a new touch. We offer a plethora of mid-century sofa options. These sofa sets are available in many designs, patterns, and trends. Our relaxing and comfortable wooden mid-century lounge gives your space an enticing look.