ABU DHABI BRANCH
Abu Dhabi Island, Al Salam Street Behind Abu Dhabi Municipality And FAB Bank Heirs. Of Ibrahim G. Sultan Al Suwaidi Building ONLINE FURNITURE – Showroom no. S2 Abu Dhabi
Landline: 02-6721444
Phone: 056-600-9626
DUBAI BRANCH
Risala Furniture LLC 9 24 A street, Al Quoz 1 Dubai – United Arab Emirates
Landline: 04-2959449
Phone: 056-600-9626
Chaise sofa
When it's come to decorating your space or renovating your home, the best way to change its overall look and atmosphere is the furniture. Conventional furniture often leads to a monotonous look and breaks it down. We need some excellent modern yet warm lounge sofas to create a pleasant, pretty friendly environment around you altogether. Now to offer you the same features, the chaise sofa works best here.
The chaise can be found at the end of a couch or, in rarer circumstances, as a separate long chair in today's home decor. It offers to tie a sitting room's aesthetic together by providing space for families to kick their feet up and relax more fully in a partially half-lying posture. But what exactly is it? How does it look? Let's find out. 
A chaise sofa, also known as a lounge chair, is a lengthy, cushioned sofa in the shape of a chair used to tilt one's legs. The name "chaise" pertains to any long, reclining chair. Chaise sofa is a long chair with just an angled backrest placed at a single end that offers complete extra comfort. The chaise sofa headrest is adjustable for ultimate convenience. It is the perfect furniture for relaxing, dozing, studying, and wondering about life. It is a sofa-style chair that can be in numerous home areas. 
Different types of chaise sofa and their benefits
Modern Chaise sofa – innovative and Distinctive
With the best selection of couch, chaise lounge, and other furniture, you can add additional luxury and refinement to your premise. This modern, sleek design chaise sofa gives an amenities look to your home. 
Comfortable chaise sofa in teak wood with warm fabric
Among the most comfortable lounge arrangements is a chaise lounge sofa bed. The stylish and slim chaise sofa chair is famous for its aesthetic and simplicity. This type of chaise sofa is designed to provide extreme comfort, warmth and satisfaction.
 Artistic Wooden chaise sofa
The Chaise Lounge is more than just a piece of furniture; it also beautifies the decor of an apartment. When purchasing a chaise lounge for your home, consider colour, fabric, style, etc. Colour is an essential factor contributing to the comfort and enjoyment just before you unwind.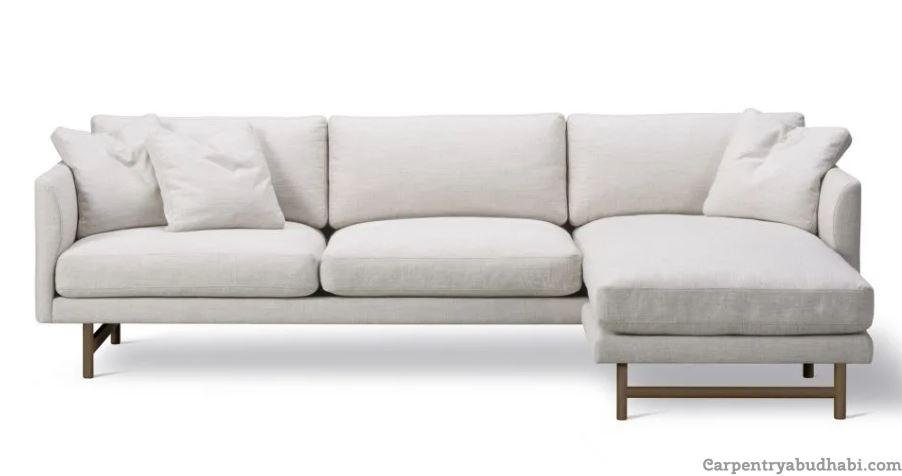 Versatile and multi usable
Chaise sofa is helpful in a diverse array of simply reading books, trying to stretch out, or calming in the sun. Not just that, and it also has visual appeal to entice people, which would be the chair's most significant aspect. Now that you know a bit about it see where you can find it.
Why choose the Chaise sofa from Carpentry Abu Dhabi? 
Carpentry Abu Dhabi serves you the best fit for your pocket and taste. We offer a plethora of chaise lounge sofa options. These chaise lounge chairs are available in many designs, patterns, and trends. With Carpentry Dubai's relaxing and comfortable wooden chaise sofa, give your space an enticing look. You don't need to look here and there and just explore our beautiful range!