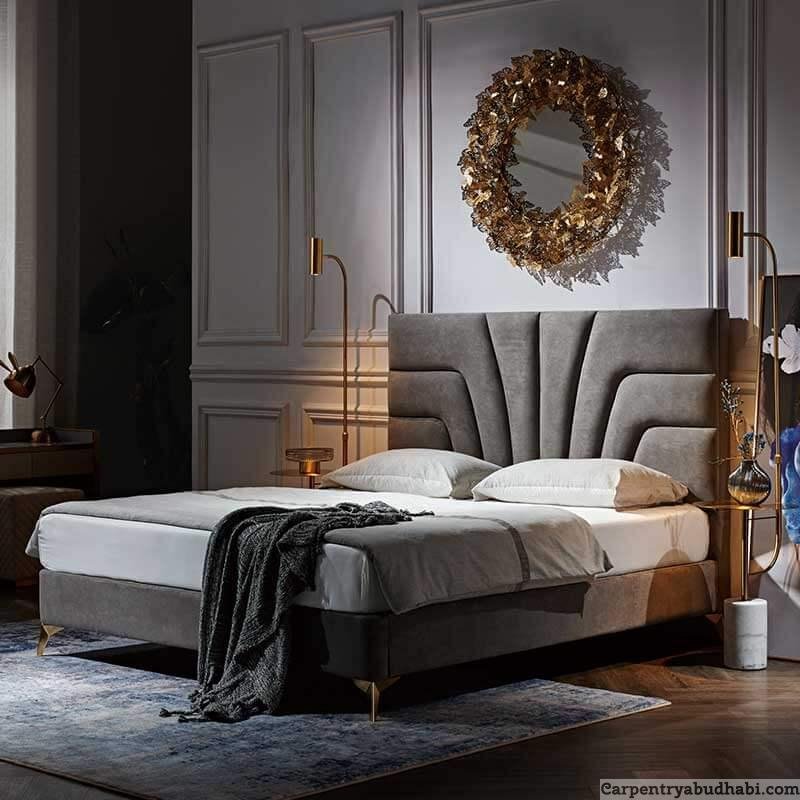 ABU DHABI BRANCH
Abu Dhabi Island, Al Salam Street Behind Abu Dhabi Municipality And FAB Bank Heirs. Of Ibrahim G. Sultan Al Suwaidi Building ONLINE FURNITURE – Showroom no. S2 Abu Dhabi
Landline: 02-6721444
Phone: 056-600-9626
DUBAI BRANCH
Risala Furniture LLC 9 24 A street, Al Quoz 1 Dubai – United Arab Emirates
Landline: 04-2959449
Phone: 056-600-9626
King Size Beds
Sleeping is one of those times when you need a little breathing room. There is a romanticised view of falling asleep in your partner's arms, but it can cause 50% more disturbances than sleeping alone. A full-size bed has a narrower sleeping area than a standard-size crib, giving each person a smaller sleeping area. You gain 16 inches of extra width when you upgrade from a queen to a king bed
Key Benefits of King Size Beds 
Here are a few reasons to upgrade to king-size bed furniture:
If you and your partner sleep on a double bed mattress, you will have about 2'3″ of space, which is less than a baby cot.

On average, a sleeper tosses and turns around 60 to 70 times in a night, so if you or your partner have the habit of tossing and disturbing each other, you will want to invest in a larger bed to avoid this disturbance.

A king-size bed means extra room for breathing, and a bigger bed enables better breathing through the night. A bigger bed also helps ease any soreness, joint pain, and pressure points in the long run.
Points To Consider While Buying A King Size Bed
Who do you share your bed with? 
Most couples who want more space may wish to have a king-sized bed. Couples sharing a bed with children and pets will want to choose a king to ensure adequate space. Also, consider the total number of people who will share the bed, and a king-size bed can easily accommodate more people.
What are your body size and sleeping position?
Your Size, Weight, and Sleeping Position also matter a lot. Your bed selection will be influenced by your and your partner's physical size and preferred sleeping position. Physically larger couples may want a king-sized bed, and tall individuals may wish to choose a king bed with more legroom. Back and stomach sleepers prefer more space around them than side sleepers.
What is the size of the room where you intend to put the bed?
Before buying a new bed, take measurements to understand how each size will fit into the room. Between the bed and each surrounding wall or piece of furniture, we recommend leaving about 24 inches of space. Because a king-size bed is 16 inches wider than a queen bed, it feels claustrophobic in smaller rooms.
Who all wants to accommodate on a single bed?
More people (or animals!) can pile in comfortably with extra space. So if your kids have a bad dream or need some extra cuddles from mom or dad, you have some space for them to join you. However, we can't promise they won't take up more than their fair share of mattress real estate. The same goes for pets; if your furry best friend likes to sleep with you, a king-size bed gives them their spot to do so.
Why Choose King Size Beds From Carpentry Abu Dhabi?
King-size beds make it easier to relieve pressure points as the sleeping area is bigger than being on the bed's edge a smaller than being on the bed edge. Comfort and style by cutting to provide convenience and store and provide online solutions that are functional and stylish. We also offer excellent online service and after-sales services. Additionally, we provide numerous discounts and offers to ensure that you need not bargain for high quality. When you shop on Carpentry Abu Dhabi, you get the best offers on king size beds.