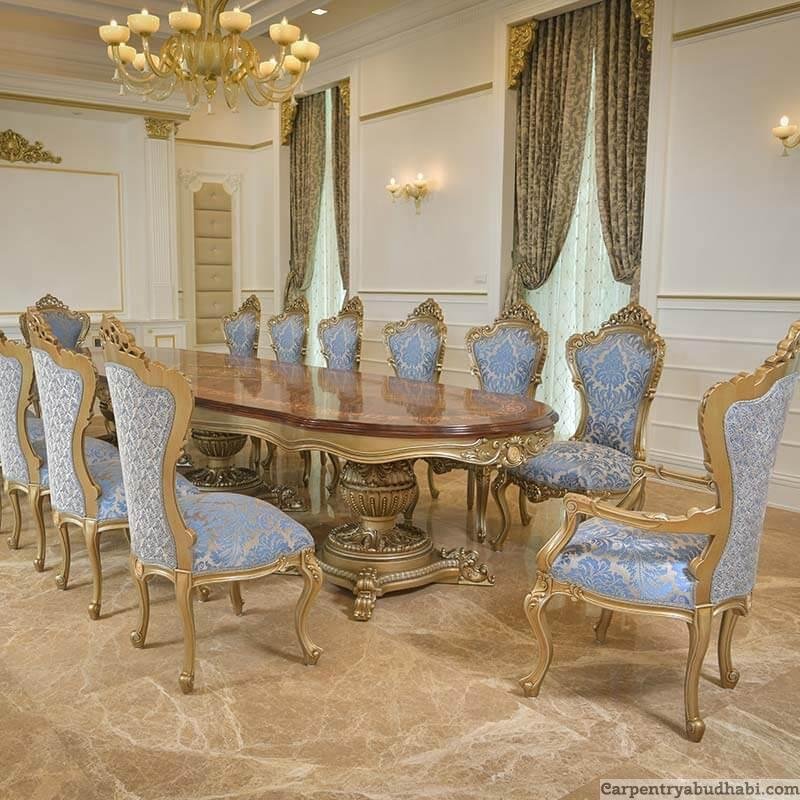 ABU DHABI BRANCH
Abu Dhabi Island, Al Salam Street Behind Abu Dhabi Municipality And FAB Bank Heirs. Of Ibrahim G. Sultan Al Suwaidi Building ONLINE FURNITURE – Showroom no. S2 Abu Dhabi
Landline: 02-6721444
Phone: 056-600-9626
DUBAI BRANCH
Risala Furniture LLC 9 24 A street, Al Quoz 1 Dubai – United Arab Emirates
Landline: 04-2959449
Phone: 056-600-9626
Premium Quality Dining Table
The dining table is the whole place family comes together at the end of the day to share a modest meal and share important news, enjoy, host, or have a heart-to-heart communication. It's no wonder that they're also high on the list of must-haves when shopping for furniture. Dining tables act as the center of the dining room, highlighting your home decor concept and making a fashion statement. If you're looking to buy a dining table, you'll want to choose a design that suits your preferences.
What exactly is the dining table used for?
The dining table is an essential item of furniture. It is usually placed in the precise center, dictating the room's style and setting the tone for the entire dining experience. And it is sometimes the most expensive dining room furniture you will purchase
What are the types? 
No matter where you live, a small apartment or big villa dining table comes in every shape and size and several seatings to have that perfect meal time with your family.  
Round table 4 seaters

  for small families 

Oval shape dining table

 

Rectangular table with six-seater chair for a large family 

Glass top table

for a contemporary touch to harmonize with your modern home decor 

Wooden table

for solid 

Traditional

dining table

Metal

dining table

Marble

dining table
According to your preferences and requirements, all these dining tables can be adjusted in terms of the number of seats, shape, size, material, color, etc.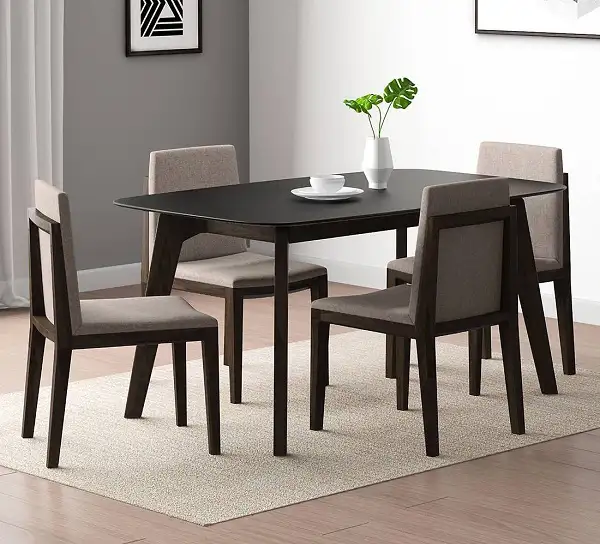 Advantages of buying a dining table? 
Brings the family together

:  The dining table makes a family sit together and let them fly away all their worries and stress of the day and have a good meal time with your family. 

Eat better

: it has been stated that distractions make your mealtime bad. Sitting at a Dining table, you tend to pay more attention to what you are eating, Making you eat a more balanced and nutritious meal. 
It provides a break from all of the screens and a bit of reality.'

 
It's no mystery that, in an age when the internet is at the center of most people's lives, many individuals find themselves addicted to their screens at all hours of the day and night. It provides a break from all of the screens and a bit of reality.'
It can provide order to an otherwise hectic day

.
 In today's hustle of life, nobody pays attention to the meal they don't regularly dine around the dining table, yet it's the one component of a busy day that you can manage. Finding time to unwind and relax can be as simple as gathering around the table for a meal and talking about something other than work. 
Why choose Carpentry Abu Dhabi for perfect dine time furniture?
With such a large selection, you'll find the perfect item for the best and most up-to-date dining table in Carpentry Abu Dhabi. We have the best quality of furniture at the most affordable price. Take a look at the wide range of dining tables and you will surely find something that fits your preference and budget. We manufacture the product to your specifications and requirements.