ABU DHABI BRANCH
Abu Dhabi Island, Al Salam Street Behind Abu Dhabi Municipality And FAB Bank Heirs. Of Ibrahim G. Sultan Al Suwaidi Building ONLINE FURNITURE – Showroom no. S2 Abu Dhabi
Landline: 02-6721444
Phone: 056-600-9626
DUBAI BRANCH
Risala Furniture LLC 9 24 A street, Al Quoz 1 Dubai – United Arab Emirates
Landline: 04-2959449
Phone: 056-600-9626
Queen size beds
Stop settling for less in your own home and invest in queen-sized beds instead. We can assist you in realizing your dream of having a spacious and luxurious room, complete with a queen-sized bed fit for royalty. Queen-sized beds are the ideal option for larger bedrooms due to their spacious design. They allow you to maximize your bedroom space while still allowing full-size pillows and duvets to be used. They also include plenty of storage and seating in a single, spacious bed frame. It makes them a great choice if you have a small bedroom or need a bed to accommodate multiple people. You can also get these beds in various styles, so you'll be able to find something you like. The queen bed measures 60 inches by 80 inches (6 feet, 8 inches).
How to pick the perfect queen-size bed design for your home?
In which room would you like to put your queen-size bed? Your bedroom is the perfect place for a queen-size bed. Either you can keep it in your elderly kid's room. 

What kind of queen-size bedframe material are you looking for? There are mainly two options: a wooden queen-sized bed and a metal queen-sized bed. 

What color of the queen-size bed are you looking for? Various colors are available, viz. black, brown, white, etc. You can customize your bed to match the colors of your walls.

Are you looking for a queen-size bed with storage or without storage? A queen-size bed with a storage option is better as it will reduce the burden on your wardrobes and cupboards.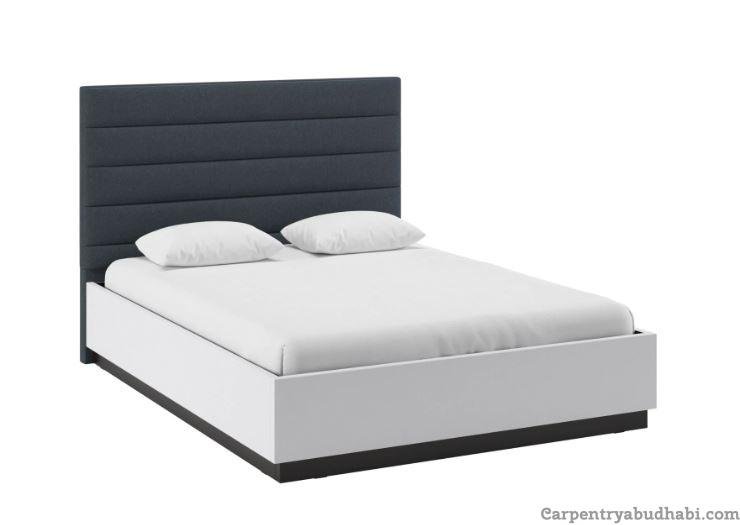 Types of queen size beds
Queen size bed with storage
What could be better than a queen-size bed frame with storage? You can add extra storage space to this queen-size bed by cleverly concealing it. Having that extra space is beneficial for storing your essential items, especially if your home isn't particularly large.
A wooden queen bed is the epitome of redefined luxury. This option is stylish, long-lasting, and exactly what you need to add a rustic yet unmatched charm to your bedroom. Your solid wood queen-size bed will also serve you well for many years. There are numerous wooden bed designs to choose from that could be your ideal bed.
Queen size upholstered bed
Arriving home after a tiresome day and resting your head on a soft, cushion-like headboard is incredibly relaxing. Headboards are included with queen-size upholstered beds for added comfort and style. They're available in many designs, materials, and colors to match any room's interiors!
Why choose queen size beds from Carpentry Abu Dhabi?
Carpentry Abu Dhabi is your one-stop-shop for home decor solutions tailored to your specific requirements. We put our best efforts into meeting your needs and expectations. Queen bedframes can fit into almost any space, whether you live in a studio apartment or a mansion. Buy queen-sized beds on HomeTown– offering a wide selection of modern queen-sized beds online in different materials, styles, and colors. Our best deals allow you to get a great deal on your favorite queen-size bed online!